Fashion Blurp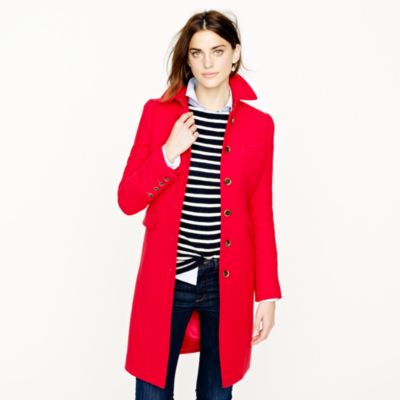 Okay so I would never put myself out there to be a fashion icon for the world to see, but sometimes in a blue moon I like certain things and how they are put together. And here is example A. This is from JCrew, and I just LOVED this look. However, the coat was 325.00 and the cute black and white sweater was 64.00...ouch! Mama doesn't want to do that! So I went on a search to replicate this look for less...and here is what I found!
Found this red coat at Macy's originally 109.00. But it was on sale for 74.90. Then I used my 20%
off coupon and I purchased this for 65.00!!!! (this is a much brighter red like the original look, camera did not capture it's full glory!)
Top...I really like stripes...and especially black and white...my friends would agree! So I went to Old Navy to find a similar top and this is what I found...
$22.00 for this top, but wait it gets better! It was mis-marked and I mentioned how misleading that was and they gave it to me for $8.00!!!! So I replicated the highly coveted original look that was $390.00+tax and shipping for $87.00 (includes tax!)
Epic!